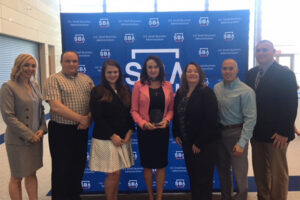 May 3, 2018
BRIDGEPORT, W.Va. – Allegheny Science & Technology (AST) is very pleased to announce that it has been named the U.S. Small Business Administration (SBA)'s 2018 Region III Small Business Prime Contractor of the Year. This award honors small businesses at the national and regional levels in the area of federal procurement, specifically, on the basis of having provided outstanding goods and services to the U.S. Government in their role as prime contractors.
Based upon this criterion, the company was designated the winner in SBA's Region III for its outstanding support to the U.S. Department of Energy (DOE) under the Mission Oriented Technical Support (MOTS) Contract. SBA's Region III encompasses portions of the Mid-Atlantic to include the District of Columbia and larger National Capital area. AST's nomination sponsor was Lani MacRae, DOE's Small Business Program Manager.
AST is a certified women-owned technology and energy consulting firm with offices in the Metro D.C. area, West Virginia, Pittsburgh and Denver. Founded in 2009 with three employees and one contract, the company has grown to over 200 employees and holds a broad portfolio of federal contracts in the both the defense and energy sectors. Many of AST's engineering and other technical staff work onsite directly supporting the company's federal clients at various agencies including DOE's Office of Energy Efficiency and Renewable Energy (EERE) in Washington, D.C., and the DOE Golden Field Office near Denver.
"Receiving this award is truly an honor. To know that we have been singled out as the Small Business Administration's Prime Contractor of the Year for a region that encompasses Washington, D.C., the capital of the country and seat of the Federal government, is absolutely amazing. It speaks to the relationships we have with our customers and the attention we give to fulfilling our missions," said AST President and CEO Arria Hines.
"I can honestly say that every one of our employees contributes to the success of AST. I have a lot of important key players, a partner, Bob Wentz and a staff that is truly dedicated to making AST a successful company."
In the official announcement of the award, SBA District Director Karen Friel stated, "I am honored to present this award to AST. They are a great example of a successful company making outstanding contributions to our economy through their work in federal contracting."
AST was recognized during National Small Business Week, which takes place this year between April 30th and May 4th with SBA-hosted events at both the national level in Washington, D.C., and the regional level. Ms. Hines received the Region III award on Wednesday, May 2nd at the Robert H. Mollohan Research Center in Fairmont, W.Va. Since 1963, National Small Business Week has recognized the outstanding achievements of America's small businesses for their contributions to their local communities and to our nation's economy.
About AST
Allegheny Science & Technology (AST) is a woman-owned technology and energy consulting firm with expertise in applied science & engineering, program strategy & implementation, and IT development & analysis. AST integrates science and technology to deliver personalized service and trusted solutions for government and commercial clients.
Founded in 2009, AST has offices in Washington, D.C., Bridgeport, West Virginia, and Denver, CO. It is the recipient of numerous industry and government awards for innovation, client service, engineering expertise, and rapid growth including the Inc. 500 fastest growing private companies in America.
For more information visit: www.alleghenyst.com ; For media inquiries contact Stephanie Pethtel, Director of Public Relations, 304-657-9107, spethtel@alleghenyst.com