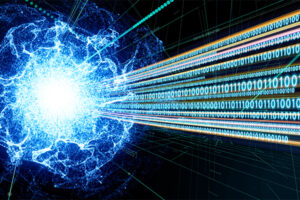 The partnership will develop quantum information processing enhanced solutions for client's critical needs such as renewable energy integration and grid optimization
July 10, 2018
BRIDGEPORT, W.Va. – Allegheny Science & Technology (AST) and BraneCell announce their strategic partnership to address critical Government needs with quantum computing-enabled solutions. BraneCell's focus on decentralized, ambient quantum information processing hardware and software adds to AST's mission assurance support for key Government functions, including, cybersecurity and energy resilience.
AST's experience supporting the Government in advanced energy technology, data analytics, and information technology will catalyze mapping the federal applications landscape addressable by quantum processing. Translating the potential of Edge Computing into deployable solutions is a goal of the partnership. The quantum services and intended device solutions will build on the foundation of BraneCell's hardware intellectual property and algorithms that provide speed-up on various applications, including, renewable energy microgrids, Smart Cities, complex logistics, urban planning, (Artificial Intelligence (A.I.), complex scheduling and cybersecurity.
AST and BraneCell will delineate the leverage provided by quantum information processing for improving critical government functions, as well as, establish the parameters for successful implementation. They anticipate sharing thought leadership in these areas through a series of framing white papers in order to better serve client's needs. The partnership of AST and BraneCell generates future-ready, hybrid classical-quantum tools and provides a channel-to-market for BraneCell's decentralized quantum processor technology. The collaboration offers quantum-classical early stage projects now and aims at implementing a range of full quantum information processing solutions, as new functionality in quantum technology evolves.
"BraneCell augments our capabilities in a manner that will allow us to continue preparing our clients for the world ahead of them and to bring breakthrough-technology to solve critical infrastructure, intelligence, and cybersecurity problems" said Dr. Jesse Goellner, Vice President of AST's Advanced Technology Development Strategic Business Unit.
Dr. Christopher Papile, CEO of BraneCell indicated: "The USA is an early adopter for distributed and cloud quantum information processing, while AST is an excellent partner for surveying Government edge and centralized computing gaps. In this way, the development of our quantum computing platform will be well targeted towards reducing costs or enabling solutions beyond those previously obtainable. AST and BraneCell's complementary skills support our companies' tandem growth."
BraneCell and AST are collaborating to provide a unique 21st Century offset strategy based on a distributed quantum information processing platform relevant to AST's Civil, Defense, and Intelligence agency client base—expanding the possibilities for America's tomorrow.