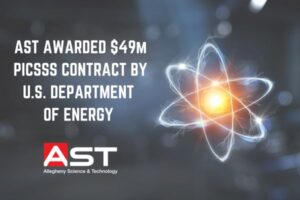 Allegheny Science & Technology (AST), a woman-owned energy and technology solutions firm, has been awarded a five-year contract valued at $49M. The Program Information Collection System and Support Services (PICSSS) contract provides essential support for the U.S. Department of Energy's (DOE) Office of Nuclear Energy's (NE) portfolio worth almost $15B.
With the PICSSS contract appointment, AST will support the DOE's mission-critical research, development, demonstration, and deployment (RDD&D) programs while providing real-time project progress and milestone data. Work covers support to NE, DOE's Idaho Operations Office (DOE-ID) and other DOE offices through a multitude of mission-critical efforts.
"Winning the PICSSS award explicitly demonstrates the success-driven experience and expertise of our dedicated team to assist DOE in fulfilling its mission critical objectives," said Arria Hines, CEO. "We are proud to be on board for this notable opportunity and will continue to provide the highest standards of quality and service in line with our commitment to continually serve DOE".
"AST is honored to have won the PICSSS award which recognizes our experienced team's dedication and expertise in assisting DOE to achieve its mission-critical objectives," said Senior Vice President Bill Hunt. "Our team takes great pride in being part of this significant opportunity, and we remain committed to upholding the highest standards of quality and service in serving DOE."