Rounding out our celebration of #OceanMonth, we are spotlighting Dan Beals, Program Analyst.
Recently, the U.S. Department of Energy's (DOE's) Wind Energy Technologies Office (WETO) published its Multi-Year Program Plan, which outlines the Office's research priorities and plans through the year 2025. Dan was a critical part in writing, strategic planning, providing metrics/analysis and coordinating teams for this effort.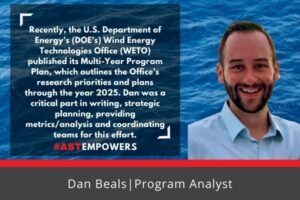 WETO's Program Plan is organized in six sections: offshore wind, land-based wind, distributed wind, systems integration, modeling and analysis and crosscutting initiatives. In addition to providing insight into DOE's wind energy research priorities, it will guide planning and execution of future R&D activities.
Click below to access WETO's Multi-Year Program Plan. https://www.energy.gov/…/weto-multi-year-program-plan
#ASTempowers #TeamAST