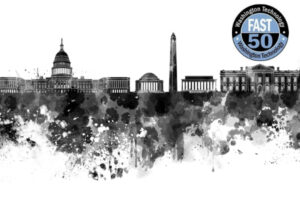 August 22, 2018
TYSONS, Va. – Allegheny Science & Technology (AST), an award-winning technology and energy consulting firm, is pleased to announce that for the fifth consecutive year it has earned a spot on the Washington Technology Fast 50 list of the fastest-growing small businesses in the Federal government's contract services market.
The Washington Technology Fast 50 represents the most successful small businesses in the government market in a given year ranked according to an eligible company's five-year compounded annual growth rate in revenue with the just-released 2018 list based upon the five-year period 2013 – 2017. The list is put together by Washington Technology, a web-based specialty publication considered the foremost authoritative source of competitive intelligence for executives of small businesses in the federal contracting market.
AST ranked #37 overall on the Fast 50, with an annual growth rate of 62.33%. This growth reflects AST's success in the areas of applied science & technology, mission assurance & support, and data & decision analytics for a range of federal civilian and military customers. ASTs' sustained growth also reflects the professionalism, dedication, and hard work of AST employees in support of their customers.
"We are very pleased and honored to be recognized for the consistent growth that stems directly from the outstanding services AST employees provide to our customers," said Arria Hines, AST President & CEO. "I truly believe that the growth embodied in these year-after-year Fast 50 rankings demonstrate that we've built a firm foundation for continued success based on outstanding delivery, strategic partnering, and trusted relationships."
The complete 2018 Washington Technology Fast 50 list may be viewed here.