Recently, Efren Martinez, Administrative Technician at AST, received the prestigious Director's coin fr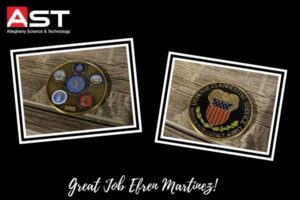 om C. Scott Coltson, DCS Director, for his outstanding performance and support to the Defense Intelligence Agency (DIA). Efren developed SharePoint sites that were instrumental in daily communications/data collection processes due to COVID-19.
"Because of Mr. Efren Martinez's experience, expertise, due diligence and persistence, the impact of mission accomplishment occurred while taking care of our people during the unusual COVID-19 circumstance. The result was through new creative, innovative communications/data collection process that met a crisis moment of need in taking care of our people to continue global human intelligence collection requirements in accomplishing our National Security mission," DIA Customer.
Great Job Efren!!