Meet Corinne Robinson! Corinne is a Program Manager and has been with AST for over six years. Corinne oversees AST's Contract Closeout Team at the Custom and Border Protection (CBP) Office of Acquisitions, Procurement Directorate. One of her primary goals is to make sure her team completes their job and meets specific goals set by the government.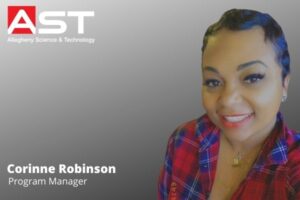 For Corinne, a great aspect of her job is working with her awesome team and being with a family -oriented company like AST. She enjoys the work she does and attributes a lot of her project's success to her colleagues who are team players that are eager to help.
In her personal life, Corinne is a loving wife, mother, daughter and she's a dog lover!
Thanks for all your hard work Corinne!