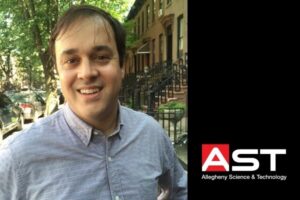 Meet Simon Gore, Interdisciplinary Physical Scientist with AST for over four years. Simon serves as a technical expert helping to manage and plan R&D projects for the marine energy and hydropower portfolios of the Water Power Technologies Office (WPTO). He also provides scientific and technical recommendations and advises on strategic research areas and technology innovation.
One of Simon's favorite aspects of his role at AST is working on the future of our coasts and ocean industries. He also finds it fascinating how energy innovations enable applications from resiliency in remote and coastal island communities, to advancing energy-water services such as wave-powered desalination. "There are so many interesting and fundamental challenges in water power and significant enabling functions from energy in terms of ocean science, exploration, resiliency, and other matters that I find deeply compelling and worthwhile." says Gore." I'm also very interested in the role of emerging energy technologies, as they a have a tremendous role to play."
For Simon, tackling AST's client's challenges in marine energy and hydropower is something that excites him about working at AST. He also enjoys the resourcefulness and considerable initiatives the company's work requires. He also appreciates the wide range of challenges and opportunities as well as the daily routine that navigates minor details of scientific research to developing longer-term, high-level strategies for ocean research and innovation.
In his spare time, Simon is an avid surfer and has spent significant time waiting on ocean swells or staring at the weather hoping for the right conditions. Working in marine energy has been especially pertinent for Simon because he is able to draw on his surfing experiences to inform some of the approaches he uses in technical design, resource characterization and environmental sustainability. This is the first job where a hobby of his has directly benefited the work.