AST would like to welcome Erick Caceres, Business Development Intern! In addition to working on Business Development, Erick will be working closely with Team AST on capture and proposal efforts.
Erick has a Bachelor of A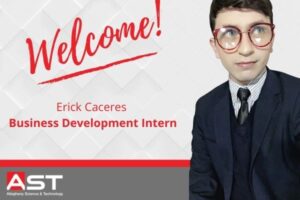 rts in Government and Politics and Double Minored in General Business and Global Terrorism from the University of Maryland. He has an extensive research background and also holds a Bloomberg Market Concepts (BMC) Certification from Bloomberg Finance LP.
In addition to Erick's passion for business and financial analysis, he has many other neat talents! Not only can he play different cover songs with a violin, he is currently writing a fictional book about depression and he also owns many rare Star Wars figures!
May the Force Be With You Erick – Team AST is very excited to welcome you!