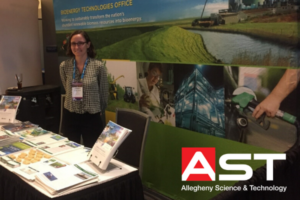 Liz works onsite for the Department of Energy (DOE) customer in Washington, DC as an Environmental Engineer and has been with AST for just over two years.
Liz works on the Algae Team in the Bioenergy Technologies Office, which is part of DOE's Office of Energy Efficiency and Renewable Energy (EERE). In her role, Liz offers technical support to the Algae Team in a variety of ways ranging from long-term strategic planning down to project monitoring of current DOE-funded algae projects. It is a perfect role for Liz because she has an algae background – Liz studied algal biofuels for her PhD and postdoc, and then worked at an algal biofuels start-up company for several years.
For Liz, the coolest part of her job is getting to be involved with so many types of algae projects, and seeing first-hand the progress they are making toward renewable energy. Liz gets to travel and provide input on projects across the US that are doing things like using algae to clean up water or making biofuels and cool bioproducts like flip flops and surfboards made with algae.
Liz loves working for AST because it is a woman-owned small business, and because of the connections she makes with people supporting so many other offices and customers. "AST provides such a great way to share experiences across sectors. This AST network strengthens the support we give to all of our customers," she said.
In her spare time, Liz loves being outdoors, spending time with her 3-yr-old and 6-yr-old, and making recipes with algae (big surprise!), such as green smoothies and cupcakes with spirulina frosting. Another fun fact about Liz, she was featured on the TLC show What Not to Wear. Click here to see her segment.
Thanks for all you do Liz!