Today, November 8th, 2021, marks Science🧪, Technology💡, Engineering⚙, and Math➗ (STEM) Day!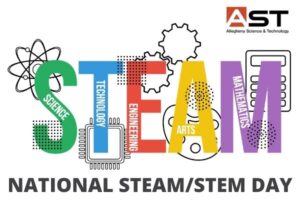 Yearly, AST has been proud to sponsor and volunteer #STEM events for students and educators, such as the West Virginia Science Bowl (WVSB), Robotics Competition, Pierpont Community & Technical College's STREAM Day and industry days.
At AST, we actively look to encourage and engage students to become the makers of our future. Today and every day, let's #EMPOWER and work to inspire our, children, grandchildren, nieces and nephews, or any other children you know to pursue an interest in S.T.E.A.M.
#ASTEMPOWERS #TeamAST #STEM #STEAM #Science #Technology #Engineering #Art #Math #Education #Inspire #Future