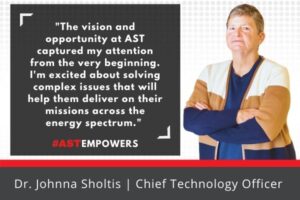 Bridgeport, WV – Allegheny Science & Technology (AST) is pleased to announce the appointment of Dr. Johnna Sholtis as Chief Technology Officer (CTO). As CTO, Dr. Sholtis will play a key role in shaping AST's technology strategy as the company embarks on its next phase of growth and leadership.  She will also oversee all technical functions including development strategy and integration, road mapping, best practices identification, and enhanced communications of innovative solutions.
"Since joining AST, Dr. Sholtis has more than demonstrated the leadership, drive and expertise to guide our ongoing development and strengthen AST's position as an expert in the energy and technology arena.", said Arria Hines, CEO of AST.  "With her extensive background and work in renewable energy and the National Energy Technology Laboratory (NETL), she is a perfect fit as AST's CTO!"
Dr. Sholtis joined AST in December 2020 with over 25 years of consulting experience related to technology development at the nexus of energy security and environmental mitigation solutions. Her extensive experience as a program manager and principal scientist includes support to the U.S. Department of Energy, U.S. Environmental Protection Agency, U.S. Department of Homeland Security, and U.S. Department of Veterans Affairs as well as private industry clients. Most notably, Dr. Sholtis has supported the National Energy Technology Laboratory for more than 15 years, where she managed efforts related to strategic planning, laboratory operations, National Environmental Policy Act compliance, energy technology development related to energy efficiency and energy delivery and security, and support to the Office of the Director.
"The vision and opportunity at AST captured my attention from the very beginning. I'm excited about solving complex issues that will help them deliver on their missions across the energy spectrum including fossil, nuclear, and renewable energy as well as energy efficiency innovations," said Sholtis of her new role. She continued, "AST has a great culture and great culture brings great people – I'm looking forward to leading and mentoring this team of talented consultants and engineers."