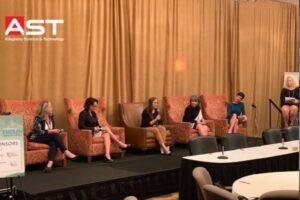 WV's energy industry gathered at Stonewall Resort in WV to participate in the 13th Annual Governor's Energy Summit. #TeamAST is excited to be at this two-day event!
AST's CEO, Arria Hines had the opportunity to sit on the 'Women in Energy: Discussion Panel'. This was an empowering discussion where the state's female energy leaders discussed how they chose careers in energy, future opportunities for our workforce and how they overcame barriers working in the energy arena.
Thank you West Virginia Office of Energy for this great opportunity to network and come together to discuss how West Virginia's expanding energy industry leads the nation in innovation and advance development!