Last year – 2020 was one of the most unpredictable and challenging years for everyone. The coronavirus pandemic and economic distress tested all of us professionally and personally.
Yet, at AST, we did more than just persevere. In many ways, we rose to the challenge and we excelled. We guided our clients through unprecedented challenges, from providing assistance and support to meeting customer deadlines and deliverables without interruption even amidst of the COVID-19 pandemic. We empowered each other to develop new pathways for collaboration, success and growth.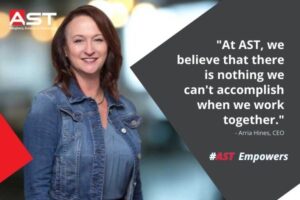 Why? We are problem solvers, we use science, technology, and engineering to secure our clients' missions. World class organizations, like the Department of Energy & DOD, turn to our experts for creative and affordable solutions — and these solutions EMPOWER us to outperform our competition!
In many ways, we are on the front lines to support our clients in meeting their most urgent mission critical directives. AST experts help keep nuclear energy facilities operating safely and, intelligence missions moving to protect the United States of America. We help secure important funding needed to keep families in economically depressed communities warm. We also help communicate the value of electric vehicles to the future of mobility in the United States. These are solutions that will be increasingly important to climate resiliency.
I could not be more be proud of what the AST teams accomplish! AST team members demonstrate unparalleled commitment to each other and to our clients – and that inspires me and others to deliver bold ideas and solutions.
I hold a renewed optimism for what's ahead for our company, our clients and for each of you. I feel, in many ways, EMPOWERED by how we met the challenges of 2020 and how we are embracing optimism for a better 2021.
With this, I am pleased to launch the #ASTempowers campaign. Over the next several months, AST will honor and highlight our team members who are creating a better future through the innovative ideas and solutions that they deliver.
#ASTempowers a better future for our clients, our nation, the world and for each other.