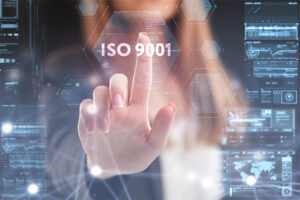 Bridgeport, W.Va. – Allegheny Science & Technology (AST), a woman-owned technology and energy consulting firm, is pleased to announce that it has received ISO 9001:2015 certification for both its software & systems development, maintenance and its professional & technical support services for federal government agencies. Such a certification confirms that an organization meets the rigorous quality management systems (QMS) standards of the international standard-setting body known as the International Organization for Standardization (more commonly called "ISO").
Arria Hines, CEO of AST reflected on the certification in light of the company's core principles: "We co-founded AST with a commitment to unwavering excellence in delivering on the mission of each of our customers.  Achieving ISO 9001:2015 certification validates the fact that AST utilizes what are widely recognized as the best quality management practices to exceed our customers' expectations. This certification shows we do so through a disciplined set of processes that reflect our culture of rigor, accountability, and continuous improvement. We are proud of the amount of hard work and tremendous dedication our team put into earning this certification for AST."
Jamie Rose, Director of Process Improvements at AST, served as the Team Lead for the certification process. He explained that the certification process involved both a multi-faceted audit and holistic evaluation of AST to include the company's accounting, finance, human resources, staff training, and business development systems, as well as how it administers its contracts and project management reviews. It also considered the company's decision-making processes including analysis and resolution.
Rose summed it up as follows: "For any company, the road to ISO 9001:2015 certification requires time and a strong commitment precisely because it is such a rigorous and thorough process that demands the active engagement of the entire organization. This achievement represents a strong, third-party validation of AST's longstanding commitment to providing the highest quality products and services to all of our customers."
He also explained that maintaining the certification during and then beyond its three-year window will require rigorous and comprehensive audits to be performed by the internal team and validated by a third-party certifying body to ensure compliance is maintained with the current standard and with any possible future changes to it.
In addition to obtaining the ISO 9001:2015 certification, AST was previously appraised at level 3 of the CMMI Institute's Capability Maturity Model Integration (CMMI) ®, a capability improvement framework that provides organizations with the essential elements of effective processes that ultimately improve their performance. An appraisal at maturity level 3 indicates AST is performing at a "defined" level. At this level, the company's processes are well categorized, established, and are described in standards, procedures, tools, and methods.