Allegheny Science & Technology (AST) is pleased to welcome Nay back to our team. Nay joins AST as Program Analyst.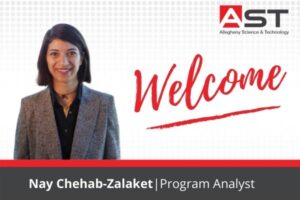 Nay is passionate about advances in sustainable transportation, renewable energy, and energy efficiency. She is an avid translator of complex tech innovation into plain language – targeting the right audiences, with the most effective messages. Nay is originally from Lebanon and earned her BA in Economics with a minor in Business Administration from the American University of Beirut.
After working for a year as an economic researcher at the Chamber of Commerce in Beirut, she moved to Washington DC and earned her MS in Energy Policy and Climate from the Johns Hopkins University. Nay has over a decade of experience in policy analysis and R&D marketing, and started her own communications company to shed more light on the industry's progress.
In her free time, Nay enjoys cardio and strength workouts as well as teaching and practicing yoga.