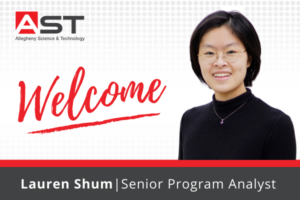 Allegheny Science & Technology (AST) is pleased to welcome Lauren to our team. Lauren joins AST as the Program Manager for AST's OTT Support Contract, as well a Senior Program Analyst on the DOE OTT Strategic Programs Team!
Lauren is an engineer passionate about the intersection between clean technology and policy. She was most recently Vice President of Engineering at Sunforge, an early pioneer in MPPT charge controllers for off-grid solar applications, as well as an executive board member of the World Economic Forum Global Shapers Boston Hub. Previously at DEKA R&D, Lauren led sensor development in a public-private partnership to scale manufacturing for engineered tissues.
She received her B.S. in Electrical & Computer Engineering from Duke University. In her spare time, Lauren enjoys a good bike ride, runs a climate book club, and is learning Cantonese, Hindi, and Marathi.