Allegheny Science & Technology (AST) is pleased to welcome Marissa to our team. Marissa joins AST as a Recruiter.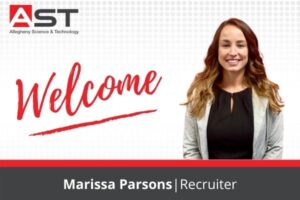 Marissa is a West Virginia native that graduated from Salem University with a degree in Business Management in H
uman Resources. Since graduating in 2017 she has traveled to Pittsburgh, PA to break into the recruiting industry. Now she has made her way back to the great state of West Virginia to pursue her passion of recruiting at AST. Marissa enjoys the challenge and process of recruiting and helping others reach their career goals.
When she is not recruiting top talent in the market, she enjoys spending time in the outdoors with her dog Maggie.