Meet Dana McCoskey, Senior Environmental Program Analyst with AST for over four years. Dana serves as the subject matter expert supporting the US Department of Energy (DOE) Water Power Technologies Office (WPTO) on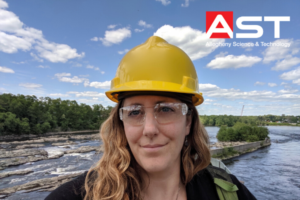 topics related to environmental technology development and monitoring and sustainability science. Much of this work is related to project management and understanding river connectivity and fish passage at hydropower dams and developing capabilities for animal tracking and monitoring to reduce environmental impacts of renewable energy development and operations. For Dana, every day is different which makes her job so interesting! In her role, Dana has presented, led panels and symposiums on behalf of DOE at conferences; assisted with setting up national and international research partnerships; provided support to principle investigators for project development and management, and helped the program develop strategies for different research portfolios.
For Dana, the best part of her job is working as a Project Manager (PM) which allows for a variety of active engagement that varies from working collaboratively with researchers, industry, and environmental stakeholders to develop plans and partnerships, to being one of the first people to know about new discoveries, to visiting national labs and conducting site visits. "I enjoy helping the company acquire and develop staff to support the DOE office's mission at the client worksite," said Dana. "Working with different AST staff that collectively have a variety of backgrounds and professional experiences and are providing different types of client support has been exciting."
In her spare time, Dana enjoys volunteering and serving on the board of the local Non-Government Organization (NGO), The DC Audubon Society. Through this organization, she recently traveled to Toronto for the annual North American section of the meeting to serve on a panel representing the DC Audubon where they discussed challenges of their watershed for restoration of the Anacostia River.
Great job Dana! Thank you for all your hard work!