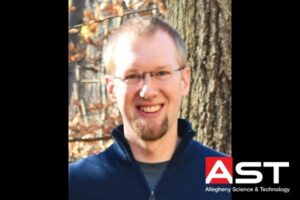 Meet Matt Roney, Research Analyst working with AST for almost four years. Matt supports four programs within the U.S. Department of Energy's Federal Energy Management Program (FEMP), all of them dedicated to helping federal agencies meet energy and water efficiency, renewable energy, and resilience goals for their building portfolios. This includes project management, writing and editing, and training support.
For Matt, one thing he truly values about AST is how the company feels like family. "If I have a question or concern, or want to share some good news, people here are ready to listen, help, or just say, "Nice work!" no matter how junior or senior they may be. It's exciting to know that kind of support system is there," he said.
Matt is located in AST's Washington D.C. Office. Before coming to AST, Matt co-authored a book with colleagues at the Earth Policy Institute called "The Great Transition" (W.W. Norton & Co., 2015), about shifting to an energy economy based largely on renewables. He stated, "It was thrilling to publish this alongside MacArthur Fellow Lester R. Brown and two other brilliant colleagues, Janet Larsen and Emily Adams". In elementary and middle school, he wanted to be a comic book artist. He still enjoys drawing and painted, but now mostly for/with his 6-year-old twins and wife, Sarah.