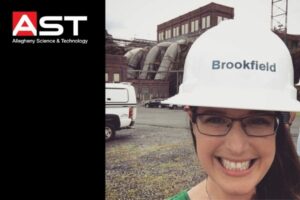 Meet Sarah Wagoner, Government Affairs Specialist with AST for a year and a half. Sarah supports the U.S. Department of Energy (DOE) by doing stakeholder outreach and engagement for the Water Power Technologies Office (WPTO). Her role involves a lot of writing and outreach to tell America's renewable energy story via the lens of hydropower & marine and hydrokinetics.
Through AST she has had the opportunity to visit many different hydropower projects. She even had the opportunity to help tag eels on the Potomac River with national laboratory colleagues! She mentions, "The hands-on experience and travel allows me to better tell the story of how WPTO-funded technologies are changing the renewable energy landscape. I really enjoy being able to see the impact of WPTO's work first hand."
For Sarah, what excites her about AST is that it is a woman-owned business. She believes it is important to support women in the workforce and she appreciates being part of an organization that is making a difference in Science, Technology, Engineering & Mathematics (STEM) fields which are traditionally comprised mostly of men.
In her spare time, she sings with the with the National Philharmonic which performs choral masterworks (Bach, Mozart, Brahms, Handel, Beethoven etc.) at the Music Center at Strathmore in the DC metropolitan area. With the group, she has performed abroad in many countries and even sang at Carnegie Hall in 2015. This fall will be her 10th year singing with the group.