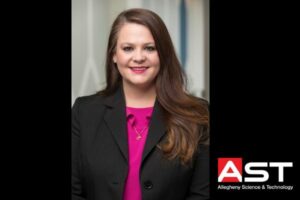 Meet Anna Meleady, Human Resources Director with AST for five years! In addition to working closely with the staff & supervisors, Anna oversees the HR Department who is responsible for a multitude of functions that support a total compensation package that includes: salary, benefits, training, and employee engagement.  Anna also monitors AST's compliance in an ever changing & evolving Human Resources landscape. Anna's ability to strengthen the link between people and strategy, as well as manage and motivate is invaluable as AST continues to develop human resources services and the administrative infrastructure necessary to support long-term success.
For Anna, what excites her about AST is getting to meet and talk to so many different people within the company. Anna is passionate about AST and has enjoyed seeing the culture develop and the company grow. She also mentioned that the family culture at AST is what sets us apart and makes this one of the best places to work!
Anna resides in Fairmont with her husband Gary and her daughter, Parker and newest addition to the Meleady family, Grant.