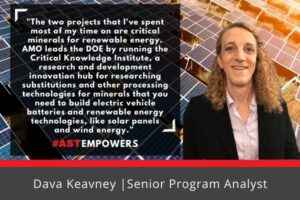 October is Energy Awareness Month! To celebrate, we have interviewed some of our Subject Matter Experts (SME's) and consultants to find out how they use their skills and expertise to #EMPOWER the energy sector at AST.                                                        
Today we recognize Dava Keavney, Senior Program Analyst at AST! Dava serves as a senior technical advisor to both the Director and Deputy Director at the Advanced Manufacturing Office (AMO) in the Office of Energy Efficiency & Renewable Energy (EERE) at the Department of Energy (DOE).
AMO works in a cross-cutting way to promote a broad range of industrial energy efficiency and decarbonization goals. Dava provides high-level support to the technical staff at DOE's Advanced Manufacturing Office, including applying her materials science expertise and supply chain experience to support the office on critical minerals for renewable energy. AMO supports the DOE by running the Critical Materials Institute, an Energy Innovation Hub supporting research on substitutions and other processing technologies for minerals needed to build electric vehicle batteries and renewable energy technologies like solar panels and wind energy.
Dava also serves as the Legislative Affairs point-of-contact for AMO. She handles requests from Congress for Technical Assistance, briefings, and reports on the current programs AMO is working on and the progress of these programs. Dava also analyses pending legislation for impacts to AMO programs and works with the Leadership Team to plan for these impacts.
When asked about her favorite part of her job, Dava said she enjoys seeing across the whole office. "Within my role at AST, I have the opportunity to sit in on leadership meetings and I get to see first-hand the exciting and innovative things happening at EERE. I get to see what is in store for the future and work with my Team to navigate and obtain our goals."
At AST, our Team plays many roles, which helps
#EMPOWER
our clients. Whether it is working with the leadership team, program managers or providing technical support, Dava plays an integral part at AMO.
This is another great example of how #TeamAST is
#empowering
our customers and delivering successful missions.