Allegheny S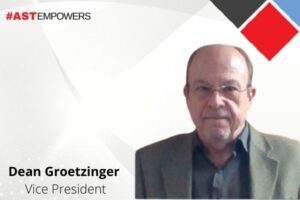 cience and Technology (AST) is excited to announce and congratulate Dean A. Groetzinger, on his promotion to Vice President! Dean just celebrated 10 years with AST during which he has managed multimillion-dollar contracts and supported AST across all areas of work supporting DOE and proving himself to be a committed company advocate.
"Dean has been instrumental in AST's growth from our earliest years. This is a well-deserved promotion for a trusted and #EMPOWERING leader at AST," said CEO Arria Hines. "He has been a critical and influential part of AST's continued success across his contracts, which has afforded AST the ability to leverage this strong past performance to further expand within DOE." Through Dean's leadership and his teams' support, AST's contracts have consistently received the highest ratings for performance.
Dean has over 40 years of Project Management experience – 28 of which are directly associated with DOE missions. Prior to joining AST, he worked to capture, oversee and manage business for both commercial and government clients in the Energy market.  Dean holds a B.S. in Business Administration; and has held a Project Management Professional (PMP) Certification from the Project Management Institute (PMI) since 1996.
Congratulations, Dean!