💨 It's #GlobalWindDay! 💨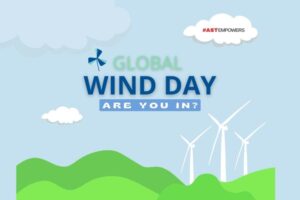 Today is dedicated to discovering wind energy, its power, and the possibilities it holds to reshape our energy systems, decarbonize our economies and boost jobs and growth.
Last year, The U.S. Department of Energy's (DOE's) Wind Energy Technologies Office (WETO) published its Multi-Year Program Plan, which outlines the Office's research priorities and plans through the year 2025. AST Program Analyst Dan Beals was critical in writing, strategic planning, providing metrics/analysis and coordinating teams for this effort.
WETO's Program Plan is organized in six sections: offshore wind, land-based wind, distributed wind, systems integra
tion, modeling and analysis and crosscutting initiatives. In addition to providing insight into DOE's wind energy research priorities, it will guide planning and execution of future R&D activities.
This is just another great example of how #TeamAST works to #EMPOWER its customers and assist in fulfilling the Office of Energy Efficiency and Renewable Energy (EERE)'s vision which is a "strong and prosperous America that is powered by clean, affordable, and secure energy."
#ASTEMPOWERS #TeamAST #WETO #GlobalWindDay